PALO ALTO, Calif. — May 8, 2023 —Hesai Technology (HSAI), a global leader in 3D lidar solutions, is set to attend the Xponential 2023 Expo from May 8th to 11th. At booth 4513, the team will showcase three sensors specifically designed for uncrewed systems and robotics applications: the AT128, QT128, and XT32. Experience live sensor demos and interact with our team at the event.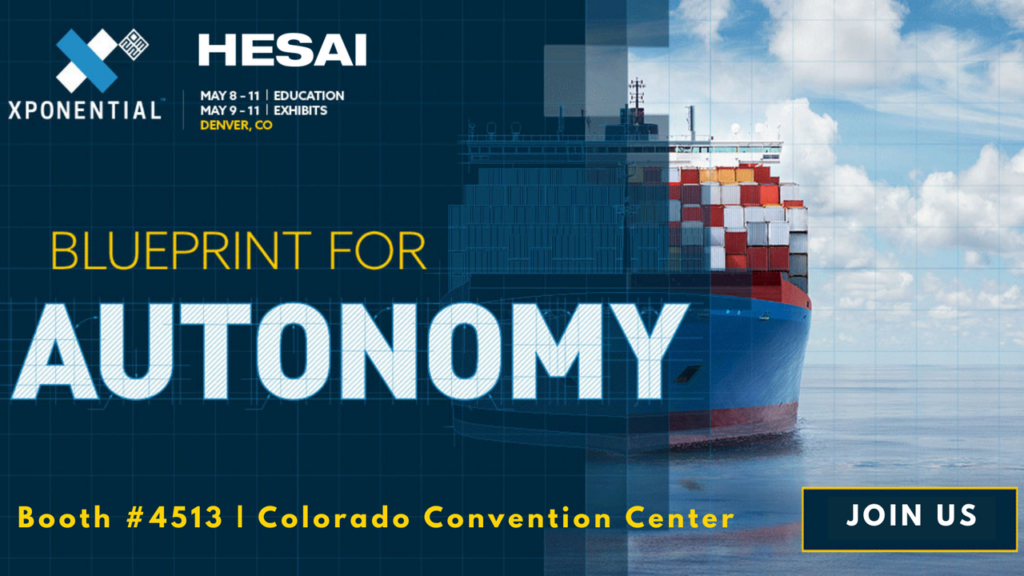 Xponential 2023 brings together leaders and experts to discuss design, operationalization, integration, and safeguarding of uncrewed and robotic technologies. AUVSI and Messe Düsseldorf North America, jointly host the major event for all things uncrewed systems and robotics.
Hesai will showcase three of its state-of-the-art lidar sensors for robotics and ADAS applications:
AT128 is an automotive-grade, long-range, ultra-high resolution lidar sensor. With a horizontal FOV of 120°, 200 m detection range, and an ultra-high 1200 x 128 overall resolution, AT128 acts as the vehicle's second set of eyes. Its excellent 3D sensing capability can detect obstacles in advance, empowering the vehicle to make the safest decision.
QT128 is the ideal blind spot solution for L4 robotaxis and robotrucks. It has an industry-leading vertical FOV at 105°, which provides comprehensive blind spot coverage that can clearly detect objects at extremely close range. QT128 passed over 50 design validation tests and has received ISO 26262 ASIL B functional safety certification. It is robust and reliable during long operation hours, increasing workflow productivity implemented in warehouses, factories, and long-haul trucking.
XT32 is designed for broader robotics applications including unmanned logistics, unmanned cleaning, and robot fleets for warehouses and factories. This cost-efficient sensor is engineered for high range accuracy and precision (between 0.5 and 1 cm), which is great for measurement applications such as capturing warehouse internal schematic. It also has a minimum range of 0, which can effectively detect an object even if it is directly touching the sensor's enclosure.
Hesai achieved a record milestone of 100,000 lifetime lidar units delivered in December 2022, and expanded its partner ecosystem to include distinct companies such as NVIDIA, Zoox, and Nuro. According to Yole Intelligence, a world-renowned marketing and strategic consulting firm, "Hesai leads with 58% of the L4 autonomous driving LiDAR market revenue, ranking 1st place globally". With expansions of its newly opened European office and the future opening of the Maxwell manufacturing center this year, Hesai is committed to driving innovation and growth for the lidar industry in 2023 and beyond.
About Hesai Technology
Hesai Technology is the global leader in three-dimensional light detection and ranging (Lidar) solutions. The Company's lidar products enable a broad spectrum of applications across passenger and commercial vehicles with advanced driver assistance systems (ADAS) and autonomous vehicle fleets (autonomous mobility). Hesai's technology also empowers robotics applications such as last-mile delivery robots and logistics robots in restricted areas. As of December 31, 2022, Hesai has shipped over 100,000 lidar units. The Company's commercially validated solutions are backed by superior research and development capabilities across optics, mechanics, electronics, and software. Hesai integrates lidar designs with an in-house manufacturing process, facilitating rapid product development while ensuring high performance, consistent quality, and affordability. Hesai has established strong relationships with leading automotive OEMs, autonomous vehicle, and robotics companies worldwide, covering over 90 cities in 40 countries.