Hong Kong International Airport is one of the world's busiest airports, ranking first in cargo throughput. In the past, it was hard for traditional logistics to meet Hong Kong Airport's daily cargo transportation needs.
In 2019, UISEE and Hong Kong International Airport jointly developed an autonomous logistics vehicle. Now, even in extreme weather such as typhoons, the autonomous logistics fleet can operate as usual in the airport.
UISEE's autonomous fleet has completed more than 2 million kilometers of real driverless operations in China, helping automakers, airports, and energy companies to reduce costs and increase efficiency.
Low cost and high efficiency are common goals across different industries. Autonomous driving technology not only improves efficiency but also effectively optimizes human resources, addressing challenges such as labor shortages, high costs, and safety hazards. It helps businesses reduce costs and increase productivity, making it a prevailing trend and industry consensus.
Founded in 2016, UISEE is the world's leading autonomous driving company. With industry-leading R&D and commercialization capabilities, UISEE has developed a "Full-scenario, True driverless, All-weather" autonomous driving solution for various industries and fields.
In the field of airports, UISEE has helped Hong Kong International Airport, Urumqi Airport, Guangzhou Baiyun International Airport, and Changsha Huanghua International Airport to build "four types of airports". (The concept of "four types of airports" refers to the integration of advanced technologies, including AI and automation, to transform traditional airports into smart and efficient hubs.)
In the field of intra-factory logistics, UISEE solves the challenges of low efficiency, high labor costs, and uncontrollable safety risks in traditional logistics transportation.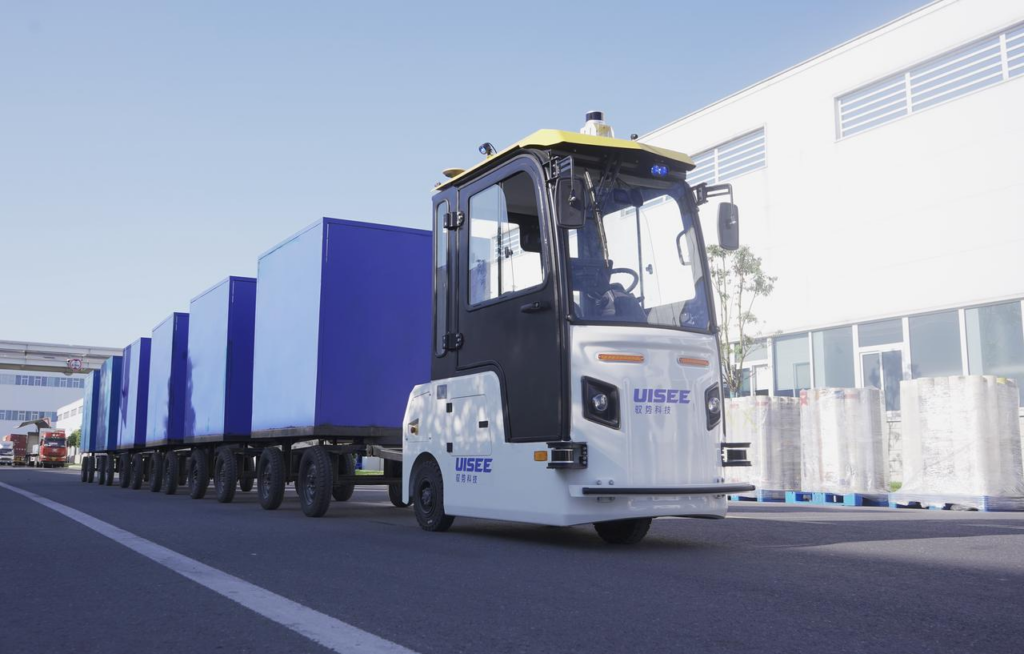 In the field of autonomous public transport, UISEE has launched autonomous sightseeing vehicles and autonomous buses, providing efficient, safe, and comfortable traveling services.
In the field of autonomous trucks, UISEE has launched its first unmanned light truck, the K10, equipped with the Hesai XT series lidar. Without the need for a safety operator, the K10 can fulfill all-weather, truly unmanned, and all-scenario transportation operations.
In the field of urban services, UISEE's Uibox autonomous driving solution caters to a variety of urban service applications, including unmanned delivery, unmanned retail, unmanned inspection, and unmanned cleaning.
In the field of passenger vehicles, UISEE is capable of providing automotive industry clients with both L2+ mass production autonomous driving solutions and robotaxi technology.
With one system and two-wheel drive, U-Drive®️ platform technology is applied in all scenarios
Unlike other autonomous driving companies targeting a single scenario, UISEE has insisted on developing full-scenario driving technology. UISEE has formulated a "1+2" strategy to recognize the two-wheel drive of passenger vehicles and commercial vehicles through a full-scenario automatic driving operating system.
Committed to empowering thousands of industries, UISEE has developed a universal autonomous driving full-stack solution: U-Drive®️. UISEE U-Drive®️ has three core modules: intelligent driving controller, AI algorithm, and cloud-based intelligent brain.
High-precision sensors are integral parts of the U-Drive®️ system.
To develop "Full-scenario, True driverless, All-weather" autonomous driving, UISEE chose Hesai XT lidar for many of its autonomous vehicles.
After comparison, we believe Hesai has the most significant advantages in coping with complex weather and light conditions while maintaining high-precision measurement capabilities.
-- Zhou Xin, Head of Product R&D of UISEE
As the core sensor, Hesai's XT lidar has a maximum ranging accuracy (1σ) of 5 mm and a maximum distance of 120 m. XT lidar's excellent ranging accuracy and measurement performance provide UISEE autonomous vehicles with rich perception, restoring the information of the surroundings and coping with complex working conditions.
Low-speed logistics scenarios require the vehicles to see both "far and clear". On the one hand, if there are closely positioned obstacles that are not detected when the vehicle starts, it can pose a danger. On the other hand, during the vehicle's journey, if there is any cargo falling off, it is essential for the vehicle to perceive and detect it promptly. Hesai XT series lidar has a blind range of zero. Even if an object is directly touching the lidar enclosure, it can still be effectively detected.
High reliability ensures all-weather operations
Hesai products have the industry's highest standard of product stability and reliability. They are cost-effective and can operate stably under various working conditions. They can empower the mass delivery of UISEE autonomous vehicles.
-- He Xin, Director of Strategic Market of UISEE
The XT series is Hesai's first lidar product equipped with an optimized lidar architecture that integrates hundreds of components onto a single circuit. Based on this low-cost lidar architecture, the XT series further improves performance and reliability while significantly reducing cost and production complexity. The failure probability and maintenance cost of the product is also significantly reduced.
Hesai XT series lidar has passed dozens of strict reliability tests to ensure safe and stable operations. Under typical conditions, the XT Series is designed to have over 30,000 hours of service life.
The outstanding perception capabilities of the Hesai XT series lidar, known for its stability and reliability, have overcome the limitations of "human resources" and "time." Whether it's scorching hot summer days with extreme temperatures or heavy rain with low visibility, the Hesai XT series lidar empowers UISEE'S autonomous vehicles to operate 24/7 in all scenarios and weather conditions.
As the core sensor, Hesai's high-performance, cost-effective, and high-reliability lidar products have become a key part of UISEE's full-stack solution for autonomous driving.
By integrating the powerful perception capabilities of the Hesai XT lidar, UISEE achieves end-to-end unmanned operations through autonomous driving technology. This significantly reduces the costs associated with human drivers and logistical expenses, helping businesses achieve a significant leap in production and operational efficiency.
Hesai is committed to working with UISEE to promote the commercialization of "full-scenario" autonomous driving, the cooperation is not limited to one single product.
In the passenger vehicle sector, UISEE's unmanned taxi fleet equipped with the Hesai Pandar series lidar has provided trial ride services as part of the Dongfeng Autonomous Driving Navigation Project Phase 1. This service has already covered over 300 kilometers of local road networks and more than 100 stations.
In the future, Hesai will continue to deepen its collaboration with UISEE, leveraging their respective technological strengths to explore broader application scenarios and promote more efficient, safer, and cost-effective autonomous driving technology.