Hesai's tech experts joined the 2023 annual meeting of the ISO Electrical and Electronic Components and General System Aspects Sub-committee (ISO/TC22/SC32)1 under the Road Vehicles Committee (ISO/TC22) in London, UK. Hesai experts presented their pre-research results on the global ISO standardization of automotive lidar. In this meeting, the standard pre-research work for three Preliminary Work Items, including ISO/PWI 13228 "Test Method for Automotive Lidar," was accepted by all committee participants for further voting.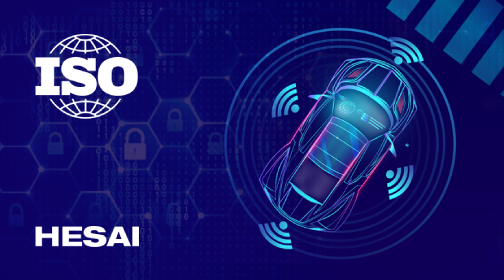 The committee made the following resolutions on ISO/PWI 13228, ISO/PWI 13389, and ISO/PWI 13377:
If the NP (new work item proposals) for IS 13228 and IS 13389, and the CIB (committee internal ballot) for TR 13377 are approved, SC32 will support further plans on the IS 13228, IS 13389, and TR 13377.
If any of IS 13228, IS 13389, or TR 13377 is approved, SC32 agrees to combine the three AHGs and set up a new WG.
Outstanding pre-research achievements and international recognition
The focus of the ISO/PWI 13228, "Test Method for Automotive Lidar," is to provide global standards for (1) automotive lidar-related definitions and technical specifications, (2) performance specifications, (3) test methods to evaluate the performance of lidars, and (4) instructions for market regulation and management.
Early last year, the automotive lidar ISO International Standards Pre-research Group AHG12 was established. 41 experts from 8 countries participated in the pre-research work, with experts from Hesai serving as the project leader and Valeo serving as the co-leader. Over the next one and a half years, AHG1 held eight meetings to determine the scope, framework, and draft of the new ISO/PWI 13228 standard and requested to initiate the New Work Item Proposal (NP) ballot, successfully progressing to the next stage.
This milestone not only represents a step towards better standards for automotive lidar but also underscores Hesai's leadership in global automotive component standardization.
Leading the development of lidar standards worldwide
As lidar becomes increasingly integral and widespread in autonomous vehicles, standardized tests and quality regulations will be critical to support large-scale production and delivery. These norms will create an environment that fosters the virtuous development of the industry. Being at the forefront of autonomous driving lidar R&D, Hesai has taken up the responsibility to use its technical expertise — in laser, manufacturing machinery, electronics, software, and more — to lead the standardization process.
Hesai has proven itself as a leader in lidar R&D through its success in the market. Hesai has obtained over 400 patents, with another 700 under review. Hesai was also one of the first companies to develop lidar ASICs, and over 100,000 units of Hesai's AT128 chip-based, long-range ultra-high resolution lidar have been delivered to vehicle OEMs, becoming a benchmark in the industry.
Hesai is committed to promoting the implementation of automotive lidar standards in China and across the world. This is an important step to encourage further cooperation between vehicle OEMs and lidar manufacturers in making lidar installation as part of the vehicle manufacturing process.
In addition to leading the development of lidar ISO standards, Hesai also put forward the UL Standards Lidar and Lidar Systems UL4700 proposal in February 2020. The UL standard covers lidar functional safety, network security, safety of the intended functionality (SOTIF), electrical machinery safety, and more. It has since been incorporated by the American National Standards Institute. In February 2022, Hesai also joined the International Electrotechnical Commission TC 76 Standardization Committee and contributed to the formulation of the IEC 60825 Optical Radiation Safety Series standards.
Moving forward, Hesai will continue to support and lead the development of industry standards by leveraging its technical expertise, collaborating with industry experts, and actively engaging in both local and international discussions on standardization, with the ultimate goal of bringing safer and better technology into people's lives.
1. ISO is the abbreviation for International Organization for Standardization.
2. ISO contains 249 technical committees (TCs) and sub-committees (SCs). TC 22 is the Road Vehicle Committee and SC 32 is the Electrical and Electronic Components and General System Aspects Sub-committee. This SC focuses on the typical technical specifications of vehicle electronic and electrical systems and components. AHG1 (Ad Hoc Group 1) is a Working Group.