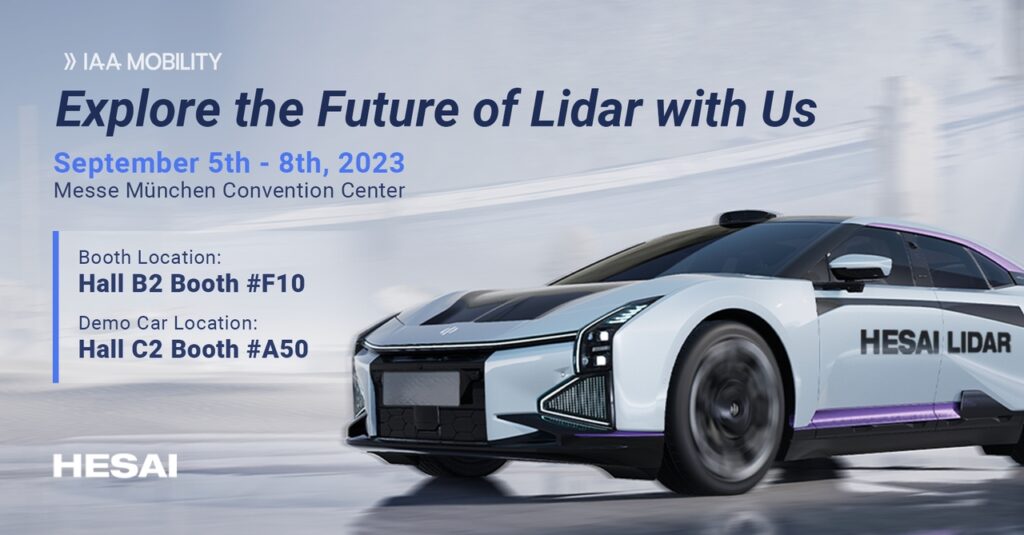 Aug 14, 2023, Palo Alto - Hesai Technology (Nasdaq: HSAI), the global leader in automotive lidar, will showcase their high-performance sensors at IAA Mobility 2023 in Munich, the world's leading platform for mobility, sustainability, and technology. By creating lidar that meets OEM requirements for performance, reliability, and cost, Hesai is making mass adoption of lidar in vehicles a reality, significantly improving road safety for everyone.
As confirmed by a recent report published by Yole Intelligence, Hesai is the No. 1 global automotive lidar supplier with the biggest market share by revenue for the second year in a row. At IAA Mobility 2023, Hesai will highlight three of its sensors that are advancing the industry:
AT128
This automotive-grade ultra-high resolution long-range lidar has already secured success with eleven OEM and Tier 1 customers, six of which will start production this year. This is the first primary lidar sensor for Advanced Driving Assistance Systems (ADAS) to be mass-produced and deployed on a large scale (over 10,000 units per month) in passenger vehicles. Thus, providing a profound safety breakthrough for everyone on and near roadways.
ET25
ET25 is setting new standards for behind-the-windshield automotive lidars. Without sacrificing performance, it measures at just 25mm in height, maximizing the cabin space. Sitting behind the windshield, it allows for better aerodynamic design and remains dust and dirt free. With its record-breaking performance, form factor, and cost, ET25 is the perfect in-cabin lidar to create safer and more intelligent vehicles.
FT120
This fully solid-state short-range lidar is designed for ADAS series production vehicles and offers superior performance and reliability. The ultra-wide FOV means zero blind spots, providing real-time perception of small objects, street signs, pavement markings, and more.
IAA visitors can locate Hesai's booth in Hall B2 #F10, Messe München. Hesai will be making strategic announcements, and offering test drives with real-time lidar demonstrations at Hall C2 #A50.
For more information, or to book an interview with the Hesai team on-site, members of the media are invited to contact our PR team at pr@hesaitech.com.